Conservative or liberal news and updates
For the best conservative news for conservatives, check out ConservativeVoice.tv. And if you want great liberal and progressive news for liberals and progressives, look for LiberalVoice.tv.
WSJ Reports Michael Cohen Killed Story About An Alleged Trump Jr. Affair
Posted on April 16, 2018 at 5:00 AM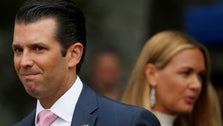 The relationship reportedly started after an "Celebrity Apprentice" pop star meeting.
Via: https://www.huffingtonpost.com/entry/cohen-killed-story-on-trump-jr-affair_us_5ad403afe4b016a07e9dab45