Conservative or liberal news and updates
For the best conservative news for conservatives, check out ConservativeVoice.tv. And if you want great liberal and progressive news for liberals and progressives, look for LiberalVoice.tv.
Trump Makes Big HIV Promises In State Of The Union Despite Poor Track Record
Posted on February 6, 2019 at 2:59 AM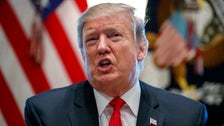 The president announced a 10-year plan for reducing the spread of the disease across the U.S.
Via: https://www.huffingtonpost.com/entry/trump-state-of-the-union-2019-hiv-aids_us_5c58c69ee4b09293b2077a84