Conservative or liberal news and updates
For the best conservative news for conservatives, check out ConservativeVoice.tv. And if you want great liberal and progressive news for liberals and progressives, look for LiberalVoice.tv.
Trump Campaign Continues Big Spending On Lawyers
Posted on April 16, 2018 at 11:10 AM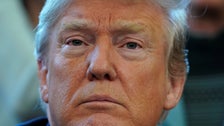 Trump's re-election campaign spent 20 percent of its 2018 expenditures on legal fees.
Via: https://www.huffingtonpost.com/entry/trump-campaign-continues-big-spending-on-lawyers_us_5ad42053e4b077c89ce9f089