Conservative or liberal news and updates
For the best conservative news for conservatives, check out ConservativeVoice.tv. And if you want great liberal and progressive news for liberals and progressives, look for LiberalVoice.tv.
Pence National Security Aide Steps Down Two Days After Being Named To Job
Posted on April 16, 2018 at 12:59 PM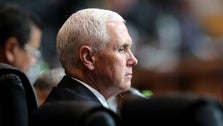 Jon Lerner withdrew after a behind-the-scenes White House argument hit the headlines.
Via: https://www.huffingtonpost.com/entry/pence-national-security-aide-steps-down-two-days-after-being-named-to-job_us_5ad49ca7e4b0edca2cbc02e1