Conservative or liberal news and updates
For the best conservative news for conservatives, check out ConservativeVoice.tv. And if you want great liberal and progressive news for liberals and progressives, look for LiberalVoice.tv.
James Comey Gives A 'Strange Answer' When Asked If Donald Trump Should Be Impeached
Posted on April 16, 2018 at 4:03 AM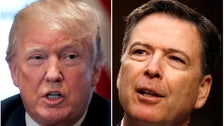 The former FBI director also wants Robert Mueller's investigation to continue.
Via: https://www.huffingtonpost.com/entry/james-comey-donald-trump-impeachment_us_5ad413c4e4b0edca2cbb1b21