Conservative or liberal news and updates
For the best conservative news for conservatives, check out ConservativeVoice.tv. And if you want great liberal and progressive news for liberals and progressives, look for LiberalVoice.tv.
Eric Trump Rips Jeff Bezos For Paying Reporters To Say 'Nasty' Things. Twitter Howls.
Posted on August 25, 2018 at 1:00 AM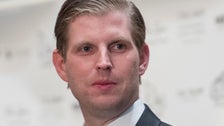 It's probably not the best week for a Trump to accuse the Amazon CEO of paying to influence media coverage.
Via: https://www.huffingtonpost.com/entry/eric-trump-slams-jeff-bezos-for-paying-wash-post-reporters-to-be-nasty_us_5b8084c3e4b072951512f278