Conservative or liberal news and updates
For the best conservative news for conservatives, check out ConservativeVoice.tv. And if you want great liberal and progressive news for liberals and progressives, look for LiberalVoice.tv.
Comey: Trump Wouldn't Shut Up About The Inauguration Crowd To Me, Either
Posted on April 16, 2018 at 7:22 AM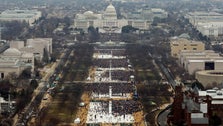 The former FBI director mentioned the crowd-size kerfuffle as an example of Trump lying in private as well as in public.
Via: https://www.huffingtonpost.com/entry/comey-trump-inauguration_us_5ad4194de4b077c89ce9efea