Conservative or liberal news and updates
For the best conservative news for conservatives, check out ConservativeVoice.tv. And if you want great liberal and progressive news for liberals and progressives, look for LiberalVoice.tv.
Article posted March 27, 2017 at 2:00 PM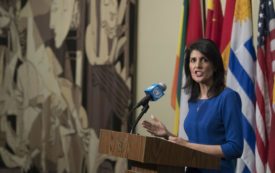 Barbara Crossette
But Donald Trump may not see it that way.
Via: https://www.thenation.com/article/nikki-haley-thinks-the-un-can-be-fixed-and-the-us-will-do-the-fixing/
Article posted March 27, 2017 at 1:50 PM
By rss@dailykos.com (Tom Tomorrow)
Follow me on Twitter: @tomtomorrow. And if you're in the area, come see me at the Los Angeles Times Book Festival on April 23!
Via: http://feeds.dailykos.com/~r/dailykos/index/~3/pH9I1TdVnoY/-Cartoon-The-Trump-diaries
Article posted March 27, 2017 at 12:57 PM
By Marina Fang

The Senate Intelligence Committee intends to question President at The New York Times.
— This feed and its contents are the property of The Huffington Post, and use is subject to our terms. It may be used for personal consumption, but may not be distributed on a website.
Via: http://www.huffingtonpost.com/2017/03/27/jared-kushner-donald-trump-russia_n_15636028.html?utm_hp_ref=politics&ir=Politics
Article posted March 27, 2017 at 12:37 PM
By rss@dailykos.com (Mark Sumner)
If you've been waiting for the moment when Donald Trump hands over power … good news! But Trump isn't officially placing his magic marker scrawl on a resignation. It's just that, after two whole weeks of trying to get a health care bill passed, he's tired of all this talking to people and trying to make compromises. So it's time to shake up America.
President Trump plans to unveil a new White House office on Monday with sweeping authority to overhaul the federal bureaucracy and fulfill key campaign promises — such as reforming care for veterans and fighting opioid addiction — by harvesting ideas from the business world and, potentially, privatizing some government functions.
Because, as the old saying goes, if at first you don't succeed, sell it off. The fact that government is not anything at all like business, has never bothered Republicans. So it's not unexpected that Trump might implement a WWWD (What Would Walmart Do) program.
It's also not unusual for president's to hand off some executive branch re-think to vice-presidents. Jimmy Carter did a lot to empower the office of VP, giving Walter Mondale a role that was greater than just figurehead. Bill Clinton explicitly aimed Al Gore at streamlining government processes. Joe Biden routinely took on major assignments, from implementing the stimulus package to directing resources against cancer research. And Dick Cheney … yeah.
So for Trump to hand over the task of reorganizing the executive branch to Mike Pence would make some sense. Except, it's not Pence.
The White House Office of American Innovation, to be led by Jared Kushner, the president's son-in-law and senior adviser, will operate as its own nimble power center within the West Wing and will report directly to Trump.
While Donald Trump is anxious to destroy existing offices and departments, he's creating a brand new one, to be lead by his 36-year-old son in law, a man who has never held elected office, never stood for Senate review, and who isn't screened out by nepotism laws because … no one knows why.
Via: http://feeds.dailykos.com/~r/dailykos/index/~3/1JnqqFDcmtU/-Donald-Trump-plans-to-make-Jared-Kushner-America-s-unelected-unapproved-uncontrolled-CEO
Article posted March 27, 2017 at 12:04 PM
By Nick Visser

The administrator of the Environmental Protection Agency reiterated his staunch opposition to the landmark Paris climate deal on Sunday and promised to begin work to roll back a hallmark environmental initiative of the Obama administration.
In an interview with ABC's George Stephanopoulos, Scott Pruitt blasted the Paris climate accord ― an international agreement to cut greenhouse gas emissions ― calling the effort "a bad deal."
"You know, what was wrong with Paris was not just that it was, you know, failed to be treated as a treaty, but China and India, the largest producers of CO2 internationally, got away scot-free," Pruitt said during the segment on ABC's "This Week."
"We've penalized ourselves through lost jobs while China and India didn't take steps to address the issue internationally. So Paris was just a bad deal, in my estimation," he added.
China is the largest emitter of greenhouse gases on the planet, followed by the United States, the European Union as a bloc and then India.
Pruitt also said President Donald Trump would begin work to reverse former President Barack Obama's Clean Power Plan, which regulates emissions from coal-fired power plants, by signing an executive order to do so on Tuesday.
"With respect to this executive order that's coming out on Tuesday, this is about making sure that we have a pro-growth and pro-environment approach to how we do regulation in this country," Pruitt said.
Nearly 200 nations have signed on to the Paris Agreement, which aims to keep the world from warming more than 2 degrees Celsius above pre-industrial levels. Scientists say we must not surpass that range if we want to avoid the worst effects of climate change. Many countries, including China and India, have submitted sweeping plans to curb emissions within the next few decades. Obama had planned to slash U.S. emissions by 26 to 28 percent by 2025.
Those plans, it seems, are now in jeopardy.
Pruitt drew near universal condemnation from the scientific community earlier this month when he said, once again, that he did not believe carbon dioxide is the cause of global warming.
"I think that measuring with precision human activity on the climate is something very challenging to do and there's tremendous disagreement about the degree of impact, so no, I would not agree that it's a primary contributor to the global warming that we see," he told CNBC. "We need to continue the debate and continue the review and the analysis."
The United Nations Intergovernmental Panel on Climate Change and nearly every scientific body on the planet disagrees.
— This feed and its contents are the property of The Huffington Post, and use is subject to our terms. It may be used for personal consumption, but may not be distributed on a website.
Via: http://www.huffingtonpost.com/2017/03/27/scott-pruitt-paris-climate-deal_n_15635468.html?utm_hp_ref=politics&ir=Politics
Article posted March 27, 2017 at 12:01 PM
By rss@dailykos.com (Daily Kos Elections)
Leading Off
● GA-06: On behalf of Fox 5 Atlanta, independent pollster Opinion Savvy gives Democrat Jon Ossoff two good pieces of news in Georgia's 6th Congressional District. The poll shows Ossoff easily advancing past the April 18 top two primary, but more importantly, Ossoff is competitive against each Republican they tested him against in the June 20 runoff; in fact, Ossoff posts small leads in three of the four matchups.
We'll take a look first at the April primary, which pits all the candidates on one ballot:
Investigative documentary maker Jon Ossoff (D): 40

Ex-Secretary of State Karen Handel (R): 20

Businessman Bob Gray (R): 10

State Sen. Judson Hill (R): 10

Ex-state Sen. Dan Moody (R): 8
None of the other 13(!) candidates take more than 2 percent of the vote. Now, here is how Ossoff performs against four different Republicans in hypothetical June matchups:
42-41 vs. Ex-Secretary of State Karen Handel

44-42 vs. businessman Bob Gray

44-45 vs. state Sen. Judson Hill

46-44 vs. ex-state Sen. Dan Moody
This is the first poll of the June general election we've seen. The survey does have one big note of caution for Team Blue: While Trump won this traditionally GOP suburban Atlanta seat just 48-47, the poll gives him a 53-46 approval rating, which indicates that the undecideds like him. However, the GOP is taking this race seriously, and Paul Ryan's allied super PAC, the Congressional Leadership Fund, just dropped an additional $1.1 million in ads on Ossoff, taking their total investment here to $2.2 million.
CLF's first spots used footage from a decade ago of Ossoff dressed as Han Solo from when he was in college. However, they seem to have decided that this line of attack wasn't so effective, which would make it the second-worst Han Solo-related decision in history. Instead, their new ad goes where so many GOP ads have gone before (yes, that's a different franchise) and ties Ossoff to Nancy Pelosi.
The narrator argues that "Nancy Pelosi's friends are bankrolling Ossoff's campaign, because Ossoff will rubber stamp her liberal agenda." The commercial goes on to accuse Ossoff of wanting "higher taxes on the middle class, job-destroying regulations, [and] billions in new spending." It's not very exciting stuff, but the CLF is hoping that a conventional GOP line-of-attack will resonate in a seat full of voters who backed almost every Republican for decades who wasn't named Donald Trump.
Via: http://feeds.dailykos.com/~r/dailykos/index/~3/MQvMG9zx99Q/-Morning-Digest-As-a-new-poll-gives-Jon-Ossoff-a-runoff-lead-the-GOP-spends-another-1-1-million
Article posted March 27, 2017 at 12:01 PM
By rss@dailykos.com (David Waldman)
We're back for a live Monday show, and weekend catch-up time with Greg Dworkin.
This is Week 10 of The Presidential Apprentice, and things aren't getting any easier for Donald Trump. Could this be the week PeeGate is verified?
Many people are saying so!
Listen LIVE, right here at 9:00 AM ET!
Is the Kagro in the Morning show keeping you sane in these troubled times?
Well, we're pretty good in decent times, too! But the troubled ones are what we have now. If we're helping you wake up and face the day, you could help do the same for us, with a monthly, sustaining contribution to our Patreon account!
Or, if a one-time donation is the way you like to roll, try our brand-new Square Cash account.
Not convinced? How about a FREE listen to our most recent live show? Ha ha, sucker! Now you're trapped! Er, I mean… Enjoy! And welcome!
YouTube | iTunes | LibSyn | Support the show via Patreon or Square Cash
Sure, you listen to KITM on Fridays so you "sound smart" over the weekend. But, ask yourself: Are you really smart enough to listen to KITM? Have you got what it takes to keep up with David Waldman and Armando's symposium on parliamentary strategy, procedural posture, precedent compliance, germaneness and immutability? Then pull up your chair, take out your No. 2 pencil and press play: It's a do or die day for Trumpcare in the house. David and Armando work out the details on how either of those could happen… If anyone wants to follow "the rules", that is. The GSA declares Donald Trump is "in full compliance" with his lease in Washington DC. So, there you go, right there in black and white. It's a great time to start a whole chain of hotels, then! Reality is also putty in Steve Dim-Mnuchin's hands. The debt ceiling is ridiculous, as sure as Donald is unbelievably healthy. Paul Manafort, remaining unassassinated for yet another day, hopes to survive at least through his testimony before the House intelligence committee next week. Paul used Wilbur Ross' Bank of Cyprus to handle all his illicit Russian funding needs. David looks at the big news for the weekend, and a few weekends to come—the Seth Abramson "Mega-Thread" connecting many details in the Trump-Russia connection. David's bird feeder is a little more lonely today.
(Thanks again to Scott Anderson for the show summary!)
Need more info on how to listen? Find it below the fold.
Via: http://feeds.dailykos.com/~r/dailykos/index/~3/PLkIgrUQc0Q/-Daily-Kos-Radio-is-LIVE-at-9-AM-ET
Article posted March 27, 2017 at 12:00 PM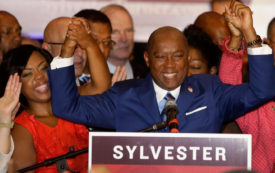 Steve Phillips
17 states and 13 congressional districts on the front lines will determine the political future of this country.
Via: https://www.thenation.com/article/the-key-to-taking-back-our-country-fortify-the-front-lines-of-the-resistance/
Article posted March 27, 2017 at 11:33 AM

The senator's question was simple and straightforward: What would you have done?
Judge Neil Gorsuch wouldn't answer. He couldn't say whether, on orders from an employer, he'd have driven a tractor trailer with locked brakes, endangering the lives of other motorists, or instead allowed himself to freeze to death in sub-zero cold in an unheated truck cab while awaiting a mechanic.
Gorsuch dithered and demurred. He talked around the query. Finally, he said, "I don't know."
The vaunted jurist nominated for a seat on the U.S. Supreme Court couldn't answer a basic question about a case on which he'd issued an infamous dissenting opinion. The fact that he had never considered the key question and the fact that Gorsuch, born and bred a 1 percenter, decided this case and others for moneyed interests without a thought for the people injured as a result, disqualifies him for a seat on the nation's highest court.
Sen. Al Franken was among the lawmakers who asked Gorsuch about the case of Alphonse Maddin during the senate confirmation hearing last week.
Maddin, 48, of Detroit, was driving a truck loaded with meat on Interstate 88 across rural Illinois on a night in January 2009 when the temperature was a life-threatening minus 27 degrees. Maddin pulled over to figure out how to get to a corporate-approved gas station. When he tried to pull back onto the road, the brakes on the 50-foot trailer had frozen, though not those on the cab.
He radioed his employer, TransAm Trucking Inc., at 11:17 p.m. for road service and was told a repairman would arrive within an hour. The engine in the cab would not idle and the heater would not work. Maddin bundled himself in a blanket in the bunk area and fell asleep.
When a phone call from a cousin awoke him two hours later, the temperature gauge inside the cab registered minus 14 degrees. He was numb, blue with cold and his skin was burning and cracking. He couldn't feel his feet and could barely stand. The cousin testified later that Maddin's speech was slurred and he seemed confused – symptoms of hypothermia.
Maddin called TransAm again to find out the status of the repair truck. He informed the dispatcher of the perilous temperature. The dispatcher told him to wait.
He remained in the cab for another half hour, but by then he was having trouble breathing and feared for his life. He called his supervisor, who ordered him to either drive dangerously dragging the frozen-braked trailer or remain waiting in the mortally cold cab.
Maddin unhitched the cab from the trailer and drove to a gas station. He returned less than a half hour later to find the mechanic at the trailer. When the brakes were repaired, Maddin completed the delivery.
Then TransAm fired him for leaving the trailer unattended.
Maddin appealed. By the time the case got to the U.S. Court of Appeals for the 10th Circuit in Denver, to which Gorsuch had been appointed in 2006, four judges already had decided in Maddin's favor.
At the 10th Circuit, a split three-judge panel also ruled for Maddin, with only Gorsuch defending the firing.
What is remarkable about Gorsuch's dissent is the way he treats Maddin. Gorsuch wrote this about Maddin's situation on that night in Kansas:
"A trucker was stranded on the side of the road, late at night, in cold weather, and his trailer brakes were stuck."
No mention of the minus-27 degree temperatures. No mention of the two-and-a-half-hour wait or the hypothermia setting in. No mention of Alphonse Maddin's name, just "a trucker."
"In my heart of hearts, I felt like he willfully tried to negate the human element of my case," Maddin, who has since earned bachelor's and master's degrees, told the Guardian newspaper.
This is how Gorsuch described Maddin's dilemma:
"He called his company for help and someone there gave him two options. He could drag the trailer carrying the company's goods to its destination (an illegal and maybe sarcastically offered option). Or he could sit and wait for help to arrive (a legal if unpleasant option)."
Gorsuch doesn't characterize it as a life-threatening option. He calls it "unpleasant," as if it had been nothing more than enduring the stench of a cow pasture.
Gorsuch's dissent says it was perfectly fine for TransAm to fire Maddin for acting to save his own life. Under Gorsuch's reasoning, a corporation is entitled to require a worker to die for a load of meat.
There is no way this 1 percenter could imagine himself in a trucker's shoes.
At the confirmation hearing, Sen. Franken tried to get Gorsuch to put himself in Maddin's place. The senator asked the judge, who at 49 is only a year older than Maddin, what option he'd have taken, driving the unsafe trailer or freezing to death.
Gorsuch, who answered questions with "gosh," or "my goodness" or "golly," as if he had not been born to wealth and educated in exclusive private schools, repeatedly refused to answer, finally asserting, "Senator, I don't know. I wasn't in the man's shoes."
Despite the down-homey show Gorsuch put on, there is no way this 1 percenter could imagine himself in a trucker's shoes.
Gorsuch has treated other vulnerable people the same way. In the case of Grace Hwang, a lawyer and college professor who suffered breast cancer then leukemia, Gorsuch again sided with an employer who fired a worker faced with untenable choices.
When Hwang recovered and prepared to return to teaching at Kansas State University at the end of a six-month leave, her doctors advised her to wait because her immune system was compromised and flu was epidemic on campus. The university refused her request for more time.
In the opinion he wrote, Gorsuch justified her firing, saying that federal law is not intended "to turn employers into safety net providers for those who cannot work." In an article in the San Francisco Chronicle, her children, David and Katherine Hwang, aptly described Gorsuch's decision as heartless. "It removed the human element from the equation. It did not bring justice," they said.
Autistic children like Endrew F. got no better treatment from Gorsuch. In the case of such a child, Gorsuch wrote that it was fine for a school district to provide instruction to special-needs children that resulted in improvement that was "merely… more than de minimis," in other words, advancement so trivial as to be barely measurable.
Virtually no educational progress is fine for autistic children, in whose shoes Gorsuch could never imagine walking.
The current eight members of the U.S. Supreme Court unanimously disagreed last week with the measly educational standard Gorsuch set. In the case of Endrew F. vs Douglas County, Chief Justice John G. Roberts Jr. wrote that a school district has a duty under the law to provide such children with "an educational program that is reasonably calculated to enable [them] to make progress" and that the program "must be appropriately ambitious."
To Gorsuch, Alphonse Maddin is not a man, but a "trucker." In Gorsuch's world, an autistic child is not a human deserving an education. In his mind, a college professor relinquishes personhood when she falls ill. Gorsuch's perverse propensity to discount humanity makes him unfit for the court. A soulless man cannot serve justice.
— This feed and its contents are the property of The Huffington Post, and use is subject to our terms. It may be used for personal consumption, but may not be distributed on a website.
Via: http://www.huffingtonpost.com/leo-w-gerard/a-soulless-man-cannot-serve-justice_b_15636666.html?utm_hp_ref=politics&ir=Politics
Article posted March 27, 2017 at 11:33 AM

The official countdown to "Brexit" ― Britain's impending exit from the European Union ― begins on Wednesday, when Prime Minister Theresa May will formally launch the divorce proceedings by invoking Article 50.
The landmark law, which is part of the EU's Lisbon Treaty, permits any of the current 28 member states to voluntarily withdraw from the union by formally notifying the European Council of their intention to do so.
This week's departure initiation comes just days after EU members gathered to celebrate the bloc's 60th anniversary on Saturday in Rome, where they reaffirmed their commitment to being "undivided and indivisible" in unity. May was absent from the festivities.
By the end of March 2019, Britain is set to become the first EU member in history to leave Europe's political and economic partnership.
How Did We Get Here?
British secession from the EU flourished as a political gamble by former prime minister David Cameron, who proposed an independence referendum in a desperate attempt to prolong his career. Ironically, Brexit fallout is what brought his leadership to a crashing end.
Euroscepticism was on the rise following the European debt crisis, so Cameron promised in 2013 that if his Conservative Party was re-elected with a majority government, he would renegotiate the U.K.'s terms of membership with the EU.
After his surprise victory in 2015, Cameron held true to his word and began months of talks with Brussels leaders. He reluctantly scheduled a vote on British independence in 2016, then fiercely campaigned against it.
Opposing camps garnered international media coverage as they clashed over pivotal issues including immigration and the economy.
On June 23, 2016, Europe was forever changed: 51.9 percent of British voters opted to leave the bloc, setting the U.K. on a stunning course to forgo its decades-long EU membership. Cameron stepped down upon defeat, and May was elected soon after.
Although she was initially opposed to leaving the EU, May is now tasked with leading the looming departure.
What Happens Now?
A lot remains unknown, because Brexit pulls Britain into unprecedented territory. But on Wednesday, after May invokes Article 50, the U.K. will have up to two years to negotiate its exit terms with the EU. Any changes to this timeline would require unanimous approval from union members. The U.K. will be excluded from internal EU discussions during this period.
There's a lot at stake. Britain seems to be headed for a "hard Brexit," meaning it will likely lose access to the European single market, which refers to the EU as one territory without internal borders.
A hard Brexit would relieve Brits from Brussels bureaucracy, but would also end their "free movement" — one of the EU's fundamental principles that enables its citizens to work and live in other member states without obtaining a work permit.
The Brexit deal will require approval from a "qualified majority" of EU member states, and can be vetoed by the European Parliament. May's government is hoping for smooth, agreeable negotiations, but EU leaders could lay out tough terms to discourage other members from leaving.
As the bargaining unfolds, Britain will have to pay any outstanding fees to the EU, fight for the evolving rights of its citizens, decide the fates of EU nationals living in the U.K., and develop a new strategy of self-governance. It will also have to recast its relationships with the bloc and the rest of the world, while trying to work out new trade deals and partnerships.
That's a lot to do in two years, but when the deadline comes, the U.K. is out.
Reaction In Europe And Within The U.K.
Much of the reaction to the Brexit referendum results has consisted of shock and disappointment. Remorseful pro-Brexit voters even coined the term "Regrexit" as they learned of the consequences and uncertainty to come.
Some of the fiercest opposition to Brexit is coming from within the U.K., which includes England, Wales, Northern Ireland and Scotland. In Scotland, nearly two-thirds of voters wanted to remain in the EU.
To the great ire of May and other Brexiteers, Scots are now contemplating having an independence referendum of their own. Scottish Parliament votes Tuesday to decide if there should be a plebiscite on Scotland's separation from the U.K.
First Minister Nicola Sturgeon is driving the new referendum bid and hopes to schedule a vote before Brexit takes effect. If she wins parliamentary approval, she will then be required to seek permission from Westminster. May, however, is unlikely to grant it: she has repeatedly insisted that "now is not the time," and Brits "should be working together, not pulling apart."
There are also fears that Britain's withdrawal from the EU could make the bloc less appealing to other members, and even cause it to crumble through a chain reaction of departures. Even Pope Francis recently warned that the union "risks dying" without a clear path forward.
Dutch MP Geert Wilders, a far-right leadership candidate defeated in elections earlier this month, had promised voters in the Netherlands an independence referendum if he won. Similar calls have been made in France and Germany, which are also due to have elections this year. French candidate Marine Le Pen has vowed to renegotiate her country's terms of EU membership if elected.
As Brexit approaches, it's impossible to know what will happen next in the U.K. and elsewhere in Europe. But as the Brits would say, now is the time to keep calm and carry on.
Jesselyn covers world news for The Huffington Post. Follow her on Facebook and Twitter.
— This feed and its contents are the property of The Huffington Post, and use is subject to our terms. It may be used for personal consumption, but may not be distributed on a website.
Via: http://www.huffingtonpost.com/2017/03/23/brexit-bill-article-50_n_15635184.html?utm_hp_ref=politics&ir=Politics