Conservative or liberal news and updates
For the best conservative news for conservatives, check out ConservativeVoice.tv. And if you want great liberal and progressive news for liberals and progressives, look for LiberalVoice.tv.
Article posted February 24, 2017 at 3:00 PM
By Chris Lu

In 2005, Barack Obama and I were getting into an elevator in Chicago with a few of his Senate staffers. Looking around at the different faces surrounding him, Obama remarked, "I love that my staff looks like a Benetton ad."
When it came time to put together his administration, Obama understood the value of diversity – not just gender, racial, or sexual orientation – but also a diversity of experiences and viewpoints. He instructed his transition team to seek out the best talent from the private sector, state and local government, philanthropy, and non-profit groups.
Obama understood intuitively that if you want to address the myriad challenges that confront government, you need to have a diverse set of voices and perspectives around the table. It's especially critical to have voices that are willing to express disagreement with leadership, whether it's a cabinet member or the president.
Donald Trump has taken a different tack.
Judging from the wall of white men who appear with him at events not held at the Museum of African American History, it's highly unlikely that the current administration will ever match the diversity of the Obama administration. But if Trump is serious about achieving policy successes, and not repeating the failures of his first month, he would be smart to broaden the pool of political appointees to represent a range of American experiences – even if that comes with the discomfort of hearing more dissenting voices.
According to press accounts, the Trump White House is vetoing candidates for senior agency slots because the proposed pick either was not sufficiently supportive of Trump during the campaign or had been critical of him. Most notably, Elliott Abrams was nixed for the number two spot at State because of "Donald Trump's thin skin and nothing else." Apparently, personnel recommendations at departments like Education, Treasury, and HUD have been rejected for similar reasons.
The Trump White House is well within its prerogative to prioritize the hiring of people who have demonstrated long-term support to the president. But if government is to solve complex problems, the previous loyalty of potential candidates can't be the only factor in whether they are selected for a position.
In the Obama administration, we certainly considered whether someone was an early supporter. But we also looked at whether they had a passion to serve, whether they had the right experience and skills, and how they would fit into a team. There was no litmus test of blind loyalty.
To be sure, not everyone made the cut for jobs in the Obama administration. But if a Republican wanted to serve, we welcomed them even if they had supported John McCain. And we especially embraced Democrats who supported Hillary Clinton during the fierce primary contest.
Given Trump's outsider campaign, he is already handicapped by a West Wing staff "light on governing experience." His personnel team also has been slow out of the gate in announcing nominations, so many agencies find themselves with no leadership and with no reinforcements on the horizon.
If Trump is unwilling to widen the circle of potential appointees, he will be relying on a team that, while loyal, is not likely to challenge his worldview and is far too small to run the federal government. This might be a perfectly acceptable way to run a family business, but the failed rollout of the travel ban demonstrates why dissenting voices are needed. And when it comes to solving complicated issues like health care and tax reform, Trump will need to hear a variety of perspectives, including from experts who have challenged him in the past.
Some of Trump's sharpest critics during the campaign were veterans of previous Republican administrations. And, while Trump is intent on breaking with what he considers to be the failed policies of the past, he will soon learn that experience matters when it comes to navigating government bureaucracies and managing the crises that inevitably arise.
For many of these critics, the tumultuous first month of this administration has not softened their opposition to Donald Trump. But if they do have a change of heart and are willing to serve their country, the president would be well-served to welcome them into the fold. It would certainly go a long way towards making his administration run more like a "fine-tuned machine."
Chris Lu is a Senior Fellow at the University of Virginia Miller Center. He served in the Obama Administration as White House Cabinet Secretary and Deputy Secretary of Labor. You can follow him at @ChrisLu44.
— This feed and its contents are the property of The Huffington Post, and use is subject to our terms. It may be used for personal consumption, but may not be distributed on a website.
Via: http://www.huffingtonpost.com/christopher-p-lu/dissenting-voices-make-an-administration-stronger_b_14986074.html?utm_hp_ref=politics&ir=Politics
Article posted February 24, 2017 at 2:50 PM
By rss@dailykos.com (Mark Fiore)
Of course you've heard about President Trump's rally in Florida where he mentioned, "last night in Sweden," as a way to bolster support for his anti-immigrant stance. Must've been an underreported terror attack, right? Or at least some immigrant violence? Turns out nothing had happened and Trump is just an old man who repeats whatever he sees on Fox News.
Just a few days later there actually was some immigrant violence, several cars were burned and some people were hurt in a couple of small riots. Whew! Now Trump doesn't look silly, he almost looks clairvoyant, right? Well, I dug a little deeper to investigate this and other incidents of immigrant violence and/or racist attacks.
Sweden really is a cautionary tale for the United States—not because of those nasty immigrant terrorists but because of the right wing neo-Nazi racists who seem to be on the rise in response to increased immigration. Yes, there have been instances of immigrant violence, but there is much more to the story. Enjoy the cartoon and be sure to visit me on Patreon for behind-the-scenes goodies!
Via: http://feeds.dailykos.com/~r/dailykos/index/~3/CteHIJict2Q/-Cartoon-Sweden-attacks
Article posted February 24, 2017 at 2:17 PM

President Donald Trump kicked off his Friday by attacking the U.S. intelligence community once again. He lashed out at the FBI, tweeting that the agency is "totally unable to stop national security 'leakers.'"
The FBI is totally unable to stop the national security "leakers" that have permeated our government for a long time. They can't even……

— Donald J. Trump (@realDonaldTrump) February 24, 2017
find the leakers within the FBI itself. Classified information is being given to media that could have a devastating effect on U.S. FIND NOW

— Donald J. Trump (@realDonaldTrump) February 24, 2017
Trump's outburst comes hours after CNN and The Associated Press reported that White House chief of staff Reince Priebus had asked the FBI to publicly dispute reports that the president's team had communicated with Russian officials throughout the 2016 presidential campaign.
FBI director James Comey reportedly refused to comply with the request because of the agency's ongoing investigation into Trump's associates and their potentially illegal links to the Kremlin.
Comey was criticized after he decided just days before the 2016 election to reinvestigate the emails of Democratic presidential candidate Hillary Clinton. Though the investigation didn't turn up any damning new information, Democrats have said that it damaged Clinton's election chances.
The White House has repeatedly denied allegations that Trump associates kept "constant communication" with Russian officials during the campaign, as first reported by The New York Times and CNN this month.
Trump's Friday tweet didn't deny accusations that the White House attempted to meddle in the FBI's investigation, but instead took aim at FBI "leakers" who could have a "devastating effect" on the U.S.
This seems like presidential confirmation that the White House asked the FBI to help cover Trump campaign ties to Russian officers. https://t.co/lI21garYCs

— Evan McMullin (@Evan_McMullin) February 24, 2017
The target of the president's attack appears to be misdirected as the AP reported that a "White House official" leaked Priebus' request for the FBI to squash the reports.
The U.S. intelligence community has found itself increasingly at odds with the Trump administration. Following Lt. Gen. Michael Flynn's resignation as national security advisor this month for misleading Vice President Mike Pence about communication he had with a Russian ambassador in December, Trump launched an attack on "leakers" within U.S. intelligence.
"From intelligence, papers are being leaked, things are being leaked," Trump said at a February news conference. "It's a criminal action, criminal act, and it's been going on for a long time before me, but now it's really going on. And people are trying to cover up for a terrible loss that the Democrats had under Hillary Clinton."
How will Trump's first 100 days impact you? Sign up for our weekly newsletter and get breaking updates on Trump's presidency by messaging us here.
type=type=RelatedArticlesblockTitle=Related… + articlesList=58a52530e4b045cd34be99aa,58af73c1e4b0a8a9b780a067
— This feed and its contents are the property of The Huffington Post, and use is subject to our terms. It may be used for personal consumption, but may not be distributed on a website.
Via: http://www.huffingtonpost.com/2017/02/24/donald-trump-is-once-again-going-to-war-against-his-own-intelligence-agencies_n_14985244.html?utm_hp_ref=politics&ir=Politics
Article posted February 24, 2017 at 2:04 PM
By Sara Boboltz

Jack Black, for one, hopes to see a repeat of that powerful Golden Globes speech during the Oscars on Sunday.
"Is Meryl Streep in the audience tonight?" Black asked an audience of celebrities at a benefit concert in Los Angeles on Thursday night, warming up the crowd before diving into a song from "School of Rock."
"I just hope she wins the Oscar and talks some more s**t about that asshole," he added, with a reference to President Donald Trump that prompted cheers. The group assembled at Los Angeles' No Name included director Paul Haggis, musicians Moby and Jenny Lewis, and actors Jeff Bridges, Rita Wilson and Jeremy Renner, per The Hollywood Reporter.
He added: "So, if she doesn't win, to the winners in here, I hope you do the same, ya know?"
"A lot of people say, 'Oh, that's just liberals patting themselves on the back,'" Black said about the reaction to Streep's comments, which inspired a couple tweets from the president himself.
"I don't agree. I thought it took balls. Thought she was very brave. I was very inspired by it. To get up there and tell the truth about the president of the United States in front of a billion people — that takes courage, and it's very inspiring."
Others in Hollywood wholeheartedly agreed.
While host Jimmy Kimmel doesn't seem keen on making a grand political statement, we can't know what to expect from the night's biggest winners.
The Oscars will kick off with red carpet coverage on Sunday, Feb. 26, at 7 p.m. ET on ABC.
— This feed and its contents are the property of The Huffington Post, and use is subject to our terms. It may be used for personal consumption, but may not be distributed on a website.
Via: http://www.huffingtonpost.com/2017/02/24/jack-black-calls-on-hollywood-to-talk-more-st-about-trump-at-the-oscars_n_14984948.html?utm_hp_ref=politics&ir=Politics
Article posted February 24, 2017 at 2:01 PM
By Lee Moran

It's the news, but hopefully as we won't ever know it.
A parody Twitter account imagines how CNN might report on President Donald Trump's administration in the not-so-distant future.
And the @FutureCNN feed foresees a dystopian time ― when lawmakers refuse to comment on America's war with Mexico, Democrats are skewered for "liking" Ivanka Trump's Instagram posts and contributors debate if launching a nuclear weapon would help soothe Trump's ego.
New York video editor Daniel Solé claims credit for the feed, which he launched last month. "Something about the tenor of the discussions on [CNN] began to gnaw at me, both before and after the election," the 34-year-old told The Huffington Post via email this week.
"They aren't Fox, and they aren't MSNBC," he said. "[CNN] seems to be trying its damnedest to occupy a middle ground that's mostly been obliterated. I see it as both noble and desperate, but mostly dystopian."
Solé described his parody account as "sort of a rogue time-traveling CNN operative warning us from the future while we still have a chance to change it."
With almost 13,000 followers ― including, Solé claimed, several CNN hosts — he balances the posts between "humor and horror," but admitted they often lean "hard towards the latter."
"The priority is plausibility," he said. "But shaded with a little comedy to help it go down easier."
Check out the full account here.
type=type=RelatedArticlesblockTitle=Related Coverage + articlesList=58ad39b6e4b0d0a6ef464047,58abf1dbe4b0a855d1d92889,58ad5e87e4b04a0b274e3444,58ac4056e4b0f077b3edd25c
— This feed and its contents are the property of The Huffington Post, and use is subject to our terms. It may be used for personal consumption, but may not be distributed on a website.
Via: http://www.huffingtonpost.com/2017/02/22/future-cnn-spoof-twitter-account_n_14984724.html?utm_hp_ref=politics&ir=Politics
Article posted February 24, 2017 at 2:00 PM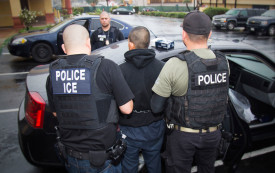 Julianne Hing
The only way to achieve a mass-deportation agenda of the scope Trump desires is to turn a person's very existence into a crime—and his latest memorandums spell out how.
Via: https://www.thenation.com/article/trump-admits-that-his-deportation-agenda-is-a-military-operation/
Article posted February 24, 2017 at 1:57 PM
By rss@dailykos.com (Mark Sumner)
On Thursday, the Trump regime violated the separation between the the White House and the law enforcement sphere of the FBI.
The FBI rejected a recent White House request to publicly knock down media reports about communications between Donald Trump's associates and Russians known to US intelligence during the 2016 presidential campaign, multiple US officials briefed on the matter tell CNN.
Frustrated by the agency 's refusal to play its role as part of Trump's propaganda machine, Trump turned his Friday morning tweet storm FBI-ward.
The FBI is totally unable to stop the national security "leakers" that have permeated our government for a long time. They can't even find the leakers within the FBI itself. Classified information is being given to media that could have a devastating effect on U.S. FIND NOW
The nature of the leaks that have been reaching the media seems to be that Donald Trump and his whole un-merry band are incompetent and in bed with Russia. Which is also the information the world keeps seeing in information that's not sourced from leaks.
Before the election, Trump counted on the FBI's friendly injections to give his campaign a boost, including a leak that conveniently silenced the Russia story a week before the election and of course, Comey's extremely timely assistance. But with Trump—Russia threads unraveling from… All … Directions … Even the most Trump-friendly branch is unwilling to play 'nothing to see here.' Though that hasn't stopped Republicans in Congress from doing their best to bury the whole story.
Via: http://feeds.dailykos.com/~r/dailykos/index/~3/Q9T7quV0mPI/-Trump-puts-the-FBI-on-his-low-life-leaker-list
Article posted February 24, 2017 at 1:42 PM

Opinions of the Affordable Care Act have improved notably in recent months. Americans are split over how much President Donald Trump has accomplished in office. And many of Trump's supporters consider the media their enemy. This is HuffPollster for Friday, February 24, 2017.
SUPPORT FOR THE ACA RISES – Kaiser Family Foundation: "As President Trump and Congress weigh repealing the Affordable Care Act, the latest Kaiser Health Tracking Poll finds more Americans viewing the law favorably than unfavorably (48% compared to 42%). This is the highest level of favorability measured in more than 60 Kaiser Health Tracking Polls conducted since 2010. The shift largely reflects more favorable views among independents, who now are more likely to view the law favorably (50%) than unfavorably (39%). Most Democrats (73%) continue to view the law favorably while most Republicans (74%) view it unfavorably. In spite of these more favorable views, the public remains divided along partisan lines on whether Congress should (47%) or should not (48%) repeal the law. At the same time, more of those who favor repeal want lawmakers to wait until the details of a replacement plan are known (28% overall) than want Congress to repeal immediately and work out the replacement's details later (18% overall)." [KFF, full results]
Other polls show a similar trend – HuffPost Pollster's aggregate now puts support for the health law at nearly 48 percent, the highest it's scored since early 2009. Opinions of the ACA, which were largely negative ever since its passage in 2010, have risen above water since late last November, just after the presidential election, with the dozen most recent polls to ask about it all finding support outstripping opposition. [HuffPost Pollster chart]
Many aspects of the ACA are more popular than the law itself – HuffPollster, on a new Morning Consult/Politico survey: "Even among those who voted for President Donald Trump, there is widespread support for many of the health care law's individual provisions. Eighty-one percent of Trump voters said Obamacare should be partially or completely repealed. But the majority said they would keep all the specific elements highlighted except 'requiring health insurance companies to cover prescription birth control,' 'removing lifetime and annual limits on the amount of money health insurance companies can pay out for an individual's care,' and requiring nearly all Americans to have insurance." [HuffPost]
AMERICANS SPLIT OVER HOW MUCH TRUMP HAS ACCOMPLISHED – HuffPollster: "Americans are divided in how much they think Donald Trump has accomplished in the first weeks of his presidency, a new HuffPost/YouGov survey finds, even as a plurality say they think he's moved quickly to make changes in policy. Forty-three percent say he's accomplished a good amount or a great deal since taking office, and another 43 percent say he's accomplished not very much, or that he's accomplished little or nothing….A 46 percent plurality say Trump has made policy changes too quickly since becoming president, while 30 percent say he's been moving at the right speed, and 10 percent that he hasn't been moving quickly enough." [HuffPost]
More on Trump's job performance:
-"Despite a first month characterized as 'a continual series of crises,' Donald Trump's presidential job approval has been mostly stable in recent weeks." [SurveyMonkey's Mark Blumenthal for HuffPost]
-"'President Donald Trump's popularity is sinking like a rock,' said Tim Malloy, assistant director of the Quinnipiac University Poll….'This is a terrible survey one month in.'" [Quinnipiac]
-"Nearly two-thirds of Americans, divided sharply along party lines, are worried that the United States will become engaged in a major war in the next four years." [NBC]
-"Three in ten (30%) Americans say Trump should be impeached and removed from office, while nearly two-thirds (65%) disagree. Notably, a similar number of Americans supported the impeachment of Barack Obama (29%) and George W. Bush (30%), although at a much later date in their presidencies." [PRRI]
HERE'S WHAT PARTISANS WANT FROM THEIR LEADERS IN CONGRESS – Pew Research: "As President Trump prepares for his address next week to a joint session of Congress, Republicans say they are more inclined to trust the president, rather than GOP congressional leaders, if the two sides disagree. For their part, Democrats are far more concerned that congressional Democrats will not do enough, rather than go too far, to oppose Trump….Job approval for Republican congressional leaders has increased sharply – from 19% to 34% – since September 2015. In contrast, there has been little change in Democratic leaders' job ratings (34% then, 37% now). The rise in approval of GOP leaders is largely attributable to a turnaround among Republicans: 68% approve of GOP leaders' performance now; only 26% did so two years ago." [Pew, more on when Congress uses partisan language and how that study was conducted]
MOST TRUMP VOTERS CALL THE MEDIA THEIR ENEMY – HuffPollster: "A narrow majority of President Donald Trump's supporters agree with him that the media is their enemy, a new HuffPost/YouGov survey finds, although most Americans overall don't feel similarly….Most Trump voters, 51 percent, say the media is an enemy to people like them, according to the poll, with 36 percent considering the media unfriendly, and just 5 percent saying it's friendly or an ally. Overall, 22 percent of Americans consider the media an enemy to people like them, with 19 percent saying it's unfriendly, 21 percent that it's friendly, and 14 percent that it's an ally. That rating scale ― ally, friendly, unfriendly, enemy ― is one YouGov more often uses to measure Americans' views of foreign countries rather than the Fourth Estate….Many Americans are also comfortable applying the term 'enemy' to describe their political opponents. Four in 10 Democrats, for instance, say they consider the GOP an enemy to people like them, and 56 percent that they consider Trump an enemy. Across the aisle, 56 percent of Republicans say that the Democratic Party is an enemy to people like them." [HuffPost]
Do voters trust the media more than Trump? – Danielle Kurtzleben: "A new poll from Quinnipiac University shows that 52 percent of registered voters said they trust the news media more than Trump to tell them 'the truth about important issues.' Only 37 percent say they choose Trump….But just five days ago there was another headline: 'Poll: Trump administration edges media in voter trust.' That came from a Fox News poll finding that the 45 percent of people trust the Trump administration more than news reporters to 'tell the public the truth.' So is one poll right and one poll wrong?…One big bottom line here is that focusing on any one poll can easily be misleading….Polling trends give greater context and tell more of a story about what's happening and why. Should Fox News and Quinnipiac continue to poll on these questions, the movement as major news events happen will be more meaningful, showing what sways people's opinions and why. In addition, focusing too much on one poll means missing out on a bigger picture. In this case, it's that both Trump and the media have big, big trust problems." [NPR]
MANY YOUNG AMERICANS ARE TURNING OUT IN PROTEST – Sarah Ruiz-Grossman: "Millennials ages 18 to 30 are more likely to have gone to a protest since the election than any other age group, according to a HuffPost/YouGov poll conducted from Feb. 1 to Feb. 3. Millennials are also more likely than older groups to think protesting is an effective form of political action….Young people also rank protest as one of the two most effective political actions one can take, alongside calling or writing their representatives. Older age groups rank protests' effectiveness below other forms of political actions that rely on more traditional, institutional channels, such as calling representatives or signing petitions." [HuffPost]
POLLSTERS' ASSOCIATION ISSUES STATEMENT ON 'FRUGGING' – The American Association for Public Opinion Research: "A recent Web survey from the Trump/Pence campaign (Mainstream Media Accountability Survey) has been circulated that asks for donations at the conclusion of the survey. The practice of fundraising under the guise of a survey (frugging) is neither new nor unique to a single candidate or political party. It is strongly condemned by AAPOR, together with the Research Industry Coalition and the National Council on Public Polls (Condemned Survey Practices), along with other practices such as 'push-polling' that attempt to change rather than measure people's opinions." [AAPOR]
HUFFPOLLSTER VIA EMAIL! – You can receive this daily update every weekday morning via email! Just click here, enter your email address, and click "sign up." That's all there is to it (and you can unsubscribe anytime).
FRIDAY'S 'OUTLIERS' – Links to the best of news at the intersection of polling, politics and political data:
-Vladimir Putin's favorability rating rises 8 points, a shift fueled largely by Republicans. [Gallup]
–Democrats turn against the Keystone XL pipeline. [Pew]
-Geoffrey Skelley and Kyle Kondik sketch out how the 2018 midterms will affect redistricting in 2020. [Sabato's Crystal Ball]
-Nate Cohn argues that Democrats' best path to retaking the House in 2018 lies through the Sun Belt. [NYT]
-Kevin Quealy analyzes a study showing readers tend to avoid stories that contradict their beliefs. [NYT]
-Stephen Wolf (D) notes that Donald Trump won easily in most congressional Republicans' House districts. [Daily Kos]
-Philip Bump charts how Donald Trump spent his first month in office. [WashPost]
-Dan Hirschman and Daniel Laurison discuss a potentially-misleading pie chart of last year's election results. [Scatterplot]
-Claire Cain Miller and Kevin Quealy discuss a new survey of political scientists rating how democracy is doing in America. [NYT]
-Six in 10 Americans can't name a best picture nominee for the Oscars. [THR]
— This feed and its contents are the property of The Huffington Post, and use is subject to our terms. It may be used for personal consumption, but may not be distributed on a website.
Via: http://www.huffingtonpost.com/2017/02/24/huffpollster-obamacare-hits-highest-favorability-since-2010_n_14983896.html?utm_hp_ref=politics&ir=Politics
Article posted February 24, 2017 at 1:00 PM
By Magally A. Miranda Alcazar, Kate D. Griffiths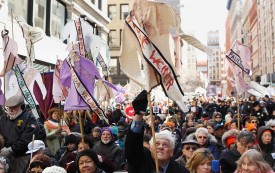 Magally A. Miranda Alcazar, Kate D. Griffiths
The most vulnerable women have been striking all year long.
Via: https://www.thenation.com/article/striking-on-international-womens-day-is-not-a-privilege/
Article posted February 24, 2017 at 1:00 PM
By rss@dailykos.com (Daily Kos Elections)
Leading Off
● DE State Senate: It's been a while, but we have an old fashioned Biden Alert! Former Vice President Joe Biden is campaigning hard in this Saturday's special election, where control of the Delaware state Senate is at stake. If the Republicans can win the 10th Senate District, which is located just south of Newark, they'll have an 11-10 majority in the chamber, and be able to block Democratic Gov. John Carney and Democrats in the state House from enacting their agenda. Delaware is one of just six states where Democrats control the state government, and Team Blue can't afford to give the GOP even more power nationally. SD-10 backed Obama 59-40 in 2012, and our preliminary numbers say it supported Hillary Clinton by a smaller 54-41 margin. However, Republican John Marino lost just 51-49 in 2014, and special election turnout is unpredictable.
Democrats have nominated former New Castle County Council President Stephanie Hansen, who served from 1996 to 2001 and is currently an environmental attorney. Hansen, who has been endorsed by Daily Kos, has decisively outraised and outspent Marino. From Jan. 27 to Feb. 17, Hansen dropped $167,000 to Marino's $65,000. A Democratic PAC, First State Strong, outspent its GOP counterpart by a massive $550,000 to $35,000.
Biden, who served as Delaware's U.S. senator from 1973 until he became vice president in 2009, has been campaigning for Hansen. Biden also stars in a Hansen ad, which features him telling a crowd, "This race is consequential. It's all about being able to look your kid in the eye and say, 'Honey, it's going to be O.K.' And this woman understands it in her gut." Biden also implores the viewer, "Don't ask yourself the morning after the election, 'Why didn't I vote?'" We'll find out Saturday if enough Democrats listened to Biden, or if the GOP can cost Team Blue control of the state government.
Via: http://feeds.dailykos.com/~r/dailykos/index/~3/JrVglNSOWNc/-Morning-Digest-Joe-Biden-stars-in-ad-for-Saturday-s-special-election-to-save-the-Delaware-Senate